BlueLine, Brooks innovative development lab for running technology came out with a new shoe: the Aurora. A super soft, extremely flexible running shoe providing the closest experience to running on the moon available here on Earth.
The ask was to showcase the technology while drawing the comparison to NASA's Apollo program. And of course, make sure there's a little fun in it too.
Not even needing an excuse to dig into NASA archive photos we started our research process for the treatment. Keep reading to see how this all came together.
Corporate | Live Action | 3D | 2D Animation | Illustration | Editorial | Compositing | Color Correction
ECD: Bobby Hougham
Director: Bobby Hougham
Director of Photography: Noah Schutz
CD: Sevrin Daniels
Editor: Joanny Causse
Design/Illustration: Vince Diga, Lindsey Mayer-Beug
3D team: Marcus Kulik, Adam Rosenzweig, Christopher Lopez, Ryan Davies
2D Animation/Compositing: Ryan Davies, Bryce Stines, Benjamin Strickland, Joanny Causse
Color Correction: Eric Edwards
Produced by: Steiner Kierce
Executive Producer: Andrew Kobliska
Score: Phil Peterson (House of Breaking Glass)
Sound Design/Foley/Mix: John Buroker (HEARby)
Client: Brooks
CD: Mike Peck
Senior Design/AD: Lucas Fuentes
Senior Brand Designer: Sean Buknam
Graphic Design: Natalie Vukic
Senior Manager/Copy: Nikolaus Drellow
Digital Copy Manager: Katherine Pletzke
Global Creative Producer: Carolyn Draayer
Producer: Steve Gray
ECD: Bobby Hougham
Director: Bobby Hougham
Director of Photography: Noah Schutz
CD: Sevrin Daniels
Editor: Joanny Causse
Design/Illustration: Vince Diga, Lindsey Mayer-Beug
3D team: Marcus Kulik, Adam Rosenzweig, Christopher Lopez, Ryan Davies
2D Animation/Compositing: Ryan Davies, Bryce Stines, Benjamin Strickland, Joanny Causse
Color Correction: Eric Edwards
Produced by: Steiner Kierce
Executive Producer: Andrew Kobliska
Score: Phil Peterson (House of Breaking Glass)
Sound Design/Foley/Mix: John Buroker (HEARby)
Client: Brooks
CD: Mike Peck
Designer: Lucas Fuentes
Copywriter: Elyse Delaney
Producer: Steve Gray
Project Manager: Nina Henningsen
There were a few special considerations we had to solve for with this project. One being that the central gag involved a guy running as though in a low gravity environment. And he needed to interact with people running in normal gravity. A heel strike in super slow motion would showcase the flex and cushion of the new technology. We also had some VFX in mind with a full CG shoe. The shoe itself had some interesting challenges in the materials and construction that we had to figure out. And to top it all off, there was the overall treatment of the production and the design of the animated sections. This project put us to the test, and I believe its safe to say, we rose to the challenge!
Making Sir Isaac Newton proud
In the process of developing the gag we knew we wouldn't be able to rely on editing alone. VFX was going to play a part to sell the trick on some level. Budget played a role in determining what approach we would take in production. 
Director, Bobby Hougham working with his DP, Noah Schutz developed an elegant and affordable solution. When combined with edit and different angles, would sell the gag. "We knew that simply over cranking the camera wasn't going to be the only part of the trick," says Bobby. "but getting the talent to perform a "bounding stride" coupled with the over crank would simulate the low g (gravity) look."
Most of the shots were singles of either the slow motion character or the regular speed runners separately. Only two shots needed compositing which helped keep the post budget in check as well. Our running talent was able to perform a believable bounding stride so special trampolines or rigs weren't required.
Chris performing the "bounding" style of running. This footage is running in real time.
Slowing the playback helps achieve the low gravity look.
We crafted some fun prop elements for this Apollo space program-inspired project. From the inspiration/development wall to lab uniform jackets and even a space helmet.
Brooks is 100% behind their mantra of "Run Happy". Despite being super serious about their technology and their products, the corporate culture is very light-hearted and casual.
For the Blue Line lab, we needed to convey that serious craft and thought without compromising their vibrant corporate culture. It wouldn't work to put them in white lab coats, for example, as they would just read as disingenuous.
So, we continued to draw our inspiration from the Apollo program. NASA makes program jackets with unique patches for each mission they engage. We made a Blue Line Aurora Program Jacket. And, of course, it made sense to design that jacket from a running shell.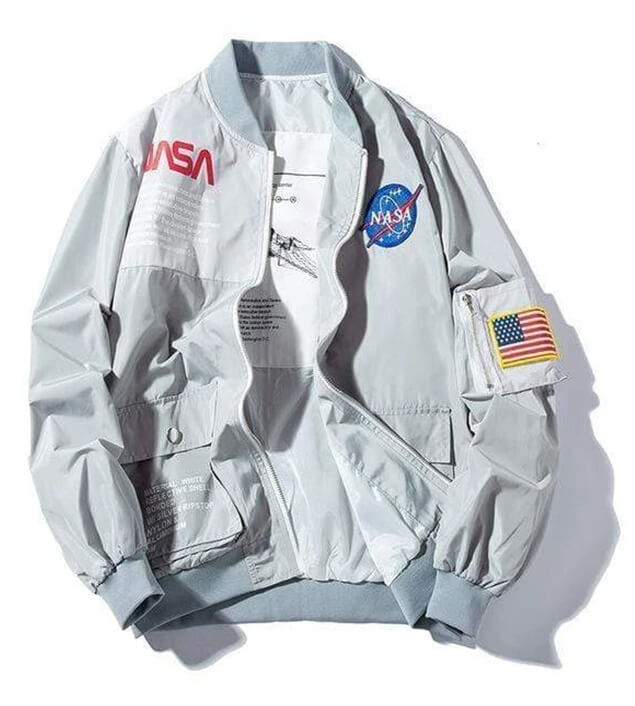 Program Patch Development
Below you can see some of the development that went into the different patches as well as application layout mockups
Designing the Blue Line org patch
Taking inspiration from NASA and military program jackets, we designed 3 different levels in the patch hierarchy. The Brooks patch was treated appropriately as the parent organization. Similar to US Flag or UNITED STATES patches on program, mission, or cruise jackets it was given a place of prominence.
We also wanted to design a Blue Line group patch, akin to NASA or US NAVY in the hierarchy.
For the Blue Line patch, we were inspired by NASA's orbital designs and looked into ways to include the Brooks Path. This needed to be associated with Brooks while nodding to the future. With all that, if we could get it to feel like part of a space program as well, then we hit a home run.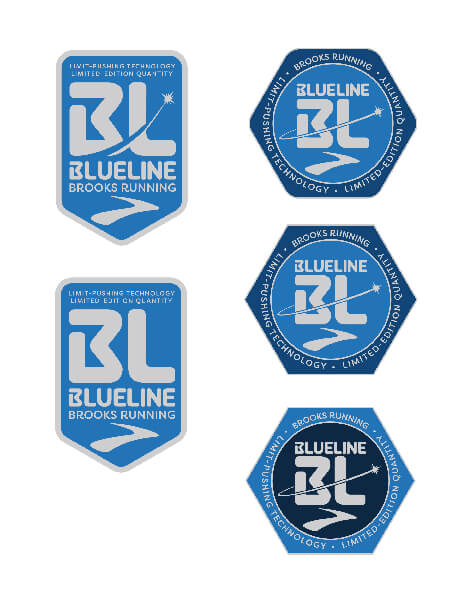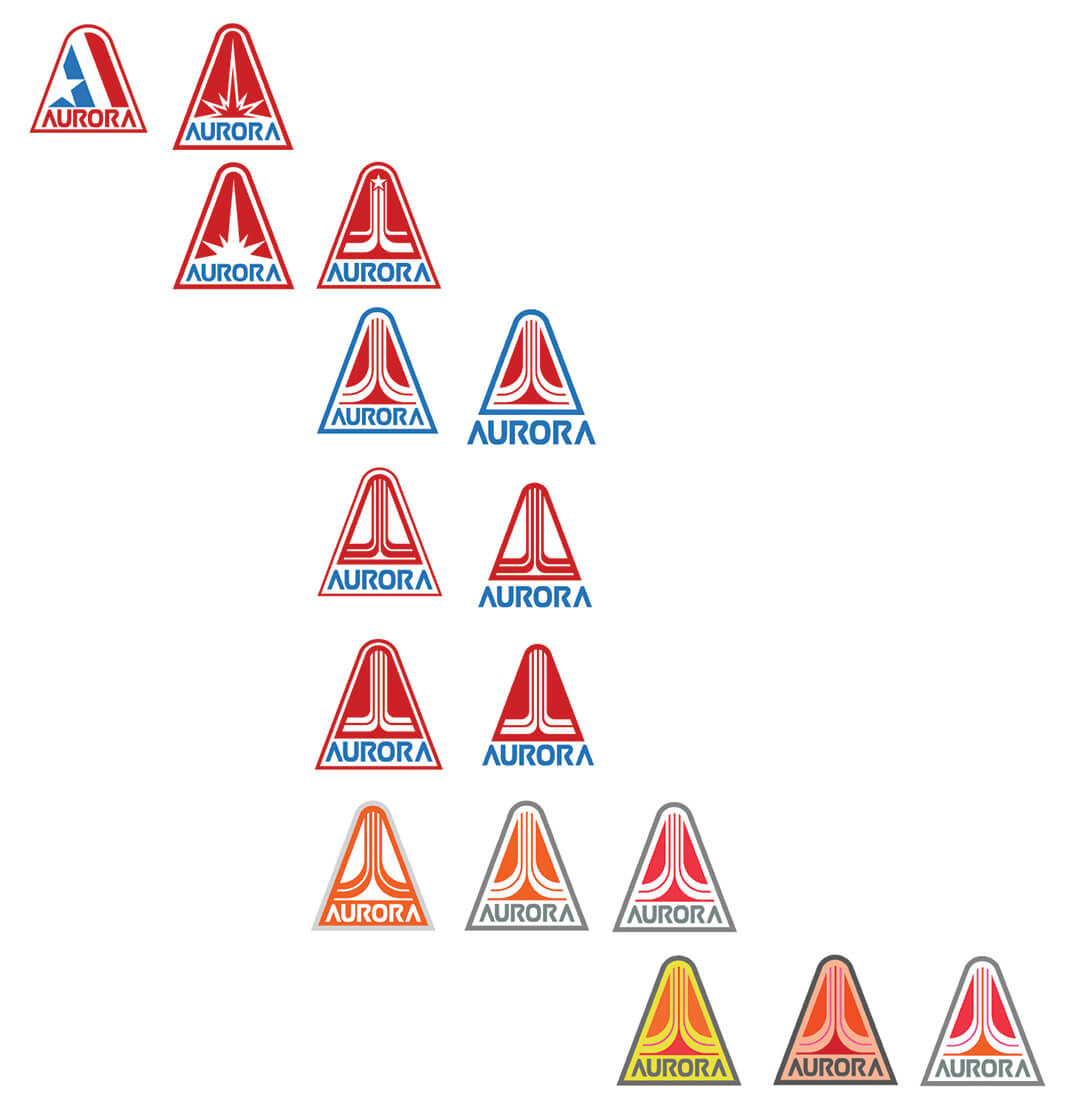 The Aurora patch was inspired by the Apollo space program and in part by an old Atari logo. Here you can see the revision path to the final. Interestingly, no matter how many iterations were made, it appears that we struck an initial shape early on. Another thing to note is how the star transformed, ultimately going away entirely in favor of its trailers.
This is an excellent example of the design process and the benefit of iterations and revisions.
We developed a couple different patches for Brooks. One was to be a shoulder patch and one was for a front-facing application.

The Brooks Blue Line Aurora Program Jacket
Everything was going great in the development of this prop. Client creative department loved it, merchandise group approved a jacket we could use (which just so happened to be the exact model we specced, AND IT MADE IT THROUGH LEGAL!! Little did we know those were going to be the easy part of the process.
What could be more appropriate for a running company than a program jacket based on a running shell? Futuristic yet clearly athletic and one of the Brooks products, the Fusion Hybrid Jacket ticked all the boxes creatively.
We mocked up several options for patch placement, and to our surprise, it sailed through all the internal approvals.
When the jackets arrived, we realized that they posed practical challenges while the choice may have looked perfect. In keeping with our space race, Apollo program theme, the jacket fit right in. Its fabric is an ultra-light, ultra-thin space-age tech material. In fact, the fabric is so light and thin that regular embroidered patches would have caused odd puckering where affixed.
Shifting tack, we found an iron-on type paper patch process that the jacket could support. But even this new approach had its downfalls. The ironing process was likely to melt the fabric.
Luckily, we found a fantastic partner who was able to make it work without damaging the jacket.
In fact, they looked so good, we decided to have some extras made for the clients!
Digging for Research or Geeking Out?
In building the set for the Blue Line lab, we wanted to create an "Inspiration  and Production Wall". A place where the engineers would put up imagery that inspired them applicable for the Aurora project. We heard they were inspired by the idea of running on the moon, and dug into the NASA library.
Our projects are always heavily researched, only rarely is the barrier between work and pleasure blurred so completely. Here are some of the images we found and used for the inspiration portion of the wall.
Blue Line Lab Inspiration Wall
Developing a believably creative workspace for the Blue Line lab was a fun challenge. We needed to convey that Blue Line designers were simultaneously focused on their process and innovative while not overly stuffy.
The inspiration wall was a vehicle to tell the story of the shoe's inspiration and development and reveal the thoughtful and purposeful engineering behind them.
Bobby developed a story layout that walked through that development in phases along the wall. The wall begins with NASA imagery and other inspiring images, transitions into sketches, and ends with final evolution tech illustrations.
We created a range of art to help tell the Auror development story. The Apollo images collected from the NASA archive were the main inspiration for the shoe. Finding the right ones to help tell that specific story was critical.
While that process was in full swing, the team illustrated the Aurora in different stages of development. This ranged from early loose sketches exploring shapes through final materials and colors.
We also developed a series of space and UI-themed tech illustrations related to our animated tech section to round it out.
Here you can see a previsualization Bobby developed to help the art department place the art correctly for the storytelling.
We had a lot of fun researching the shoe-building process. The fine folks at Brooks answered all our questions, whether on the design, features, and any other oddball questions we threw at them. They provided a bunch of scrap for us to reference when creating the Aurora art for the wall.
A significant portion of the Aurora video relies on a 3D shoe. We use it for showing flex as well as different angles, details and a final product shot.
After having done a few of these we have dialed in our technique. Our workflow is engineered to accommodate a stylized deliverable as well as a photorealistic version. After all, you never know what the future needs are going to be for the shoe. This solution gives maximum flexibility to us and the client.
Typically it is best to start with fabric patterns and CAD files. But when those aren't available, we begin the process with Photogrammetry. 
While photogrammetry can deliver a decent model solution in and of itself, it is only the first step in many. Basically, we take hundreds of photos in every angle imaginable. Then using software, those photos key points are linked together. This tells the computer that from one image to the next specific features on the images are the same element. So as it is putting the points together it can calculate the angles of each photo. This then informs the computer the relative geometry of the object we are trying to build.
In the end after many hours of calculations and finessing key points and images, we will end up with a pretty decent model. The next step is cleanup, rigging, and UV mapping, 
After finishing the modeling stage, the shoe then advances to rigging for animation. Our scoping process informs the amount, type, and quality of animation we need to produce. We then use that information to place pivots and deformers in the various locations around the shoe.
This shoe required a minimal amount of complexity in the rigging. We built flexibility as well as twist originating in the decoupled sole.
Shaders are developed to make the materials look as intended. Good or bad 3D is often due to the amount of time devoted to this process. The Aurora uses some beautiful fabrics with fascinating weave patterns. There are varying levels of translucency derived in some cases from the material itself. In other cases, the openness of the weave provides that transparency.
Here you can see the shaders in process. The ball on the right side of the artist's screen provides a preview of the shader they are working on. It is a low-weight model so that the computer can update the shader in near real-time. Lighting, shadows, surface irregularities, corners, and edges are all depicted to preview the material in all those various conditions.
Simulating Retroreflection
The reflective material you find in road signs or bicycle reflectors behaves unique and different from typical reflective materials. A mirror bounces light geometrically away from the light source unless the mirror is perfectly perpendicular to the light source. Whereas a retroreflector only reflects light to the light source.
In the 3D world, reflective shaders behave like mirrors, not retroreflectors. Building a proper shader was going to involve some serious math and creative thinking.
Brooks fabricated the Aurora with a unique reflective heel cap. Great for night runs and great for a challenge in light physics in 3D. We wanted to show that off in the end sequence. How cool would it be to have the shoe floating in orbit around the moon with a light source bling the heel?
No challenge left behind; we dug in and crafted something that behaves exactly like a real-world retroreflector.
Animation and Texturing the Aurora
Texturing is another area that has a profound impact on the realism of 3D. It can also help shorten the modeling process. There are some details, whether material or object, that can be simulated by a bump map in textures.
Very few things in the real world are perfectly smooth, and nailing the proper texture is critical.
In terms of human development, we spend a lot of time learning the texture of things. When we are first crawling around, we mouth everything we can come across. That knowledge sticks with us through adulthood. Even the most unsophisticated audience can tell when the texture doesn't align with reality.
Of course, the animation is another tell-tale. Even something relatively simple like shoe flexes can take a lot of time to get right. Materials can't stretch improperly or fold unexpectedly. Material behavior is critical, especially considering the audience.
Runners are watching our video evaluating how the shoe will work for the next 90 miles.
The tech section for the Aurora was going to be different from anything else Brooks was doing graphically. Blue Line is an innovative design and engineering lab; we decided to lean into that.
Brooks had presented some initial frames that felt like a combination of blueprint and user interface design. We took it another step further and developed some cool tech animations to support the story.
You guys are the shit. Thank you!
Lucas Fuentes
Brooks Running