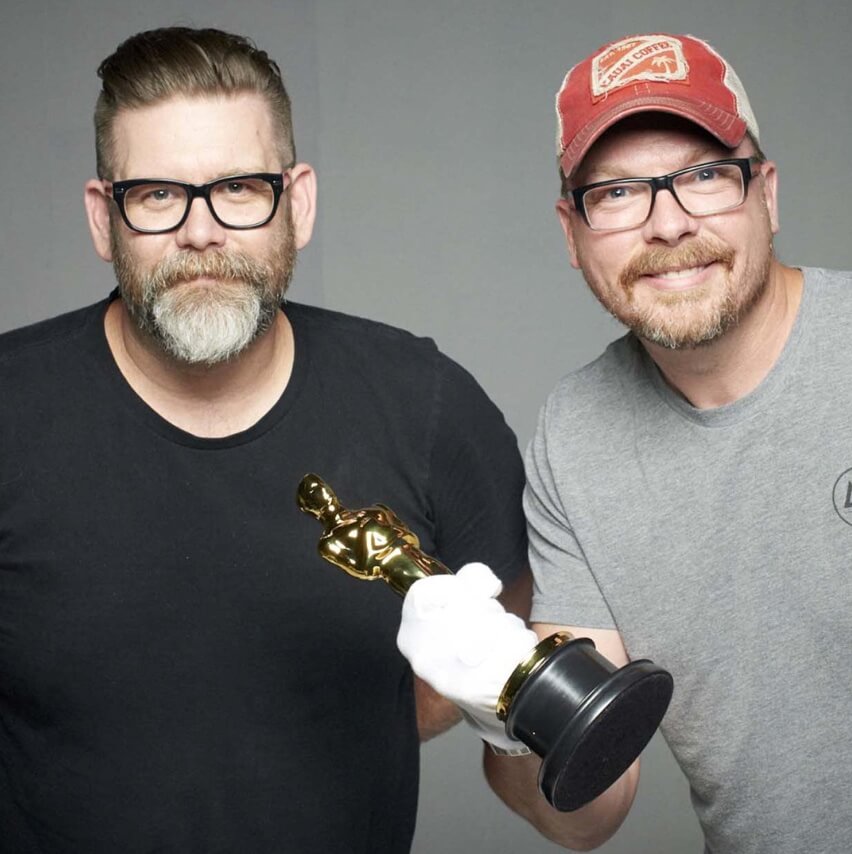 TNB Founders Sevrin Daniels (left) and Bobby Hougham (right)
Veteran-Owned Small Business: The New Blank
The New Blank (TNB) was founded by Sevrin and Bobby in 2007
Locations/Headquarters:
Seattle, WA
Business Accolades:
NaVOBA Certified
Veteran Service Disabled
Veterans in Media & Entertainment
The New Blank (TNB) is a dedicated team of graphic designers and 'motionographers', driven by creating impactful beauty that stands out. With a core belief in purposeful design, TNB prioritizes crafting meaningful messaging over mere aesthetics.
TNB's approach focuses on research, concept, and craft, which resonates with audiences, ensuring they engage and remember TNB's work as something special. In an increasingly noisy world, TNB strives for intentional craft to cut through the clutter. TNB analyzes your communication goals and the relevant landscape to make your voice heard.
By highlighting under-emphasized aspects and reinforcing key points, The New Blank creates captivating stories for every modern medium.
About the Business – Connect & Re-energize
What services do you provide?
"We are a design-driven, full-service production company. Specializing in conceptual design, transforming visual stories from the mythical napkin sketch to beautifully finished pictures for everything from television commercials, key art, and film title sequences to large-scale environmental displays, online content, and emerging interactive media.
We also produce and direct still and motion shoots for key art, commercials, promos, and digital/social media, working with talent and celebrities with or without VFX. Depending on need, we can capture still and motion images for all media at one shoot making production budgets as efficient as possible.
In 2022, we formalized two new service offerings based on customer needs. Flex is our high-volume content solution that features unparalleled quality and cost. And Managed Services, which provides dedicated teams of senior marketing consultants focused exclusively on individual clients."
Who are your primary customers?
"TNB has developed bespoke entertainment branding, show packages, game trailers, key art, and social content for networks and production companies such as Disney, ABC, NBC, E!, FOX, FOX Sports, SYFY, HBO, PBS, MTV, TBS, Food Network, and more. A few of our specific shows include American Idol, The Academy Awards, NFL Draft, the ESPY's, The Simpsons, The Walking Dead, Game of Thrones, Brooklyn Nine-Nine, and more.
We have designed, shot, and finished commercials for AT&T, Microsoft, Shopify, Amazon, Converse, Verizon, Nordstrom, Woot!, Brooks Running, and others. In addition, we provide ongoing volume design production and marketing consulting services to entertainment & gaming brands like Netflix, Riot, Hammer, EA, and Epic Games.
Of note, a few years ago, we rebranded ABC, The Oscars, and the CMA Fest, all within about 24 months. While we work with global brands, we also work with plenty of small and medium businesses like Brooks Running, 14 Hands, and Woot!. You can view our case studies here: https://thenewblank.com/work/, and follow us on Instagram: https://www.instagram.com/thenewblank/
When and how did you start your business?
"The earliest iterations of running a business in motion design but grounded in design roughly began in a tiny spare bedroom on Capitol Hill in Seattle back in 1995.
Sevrin and Bobby have been friends and have worked together for over 20 years. Chuck joined in 2014, initially consulting through his own company, having worked primarily in digital agencies and consultancies servicing the entertainment and gaming industries."
Business Growth Challenges – Growing Through Challenge and Change

What were some of the challenges in starting your business?
"It's surreal to think of our crew's challenges around the time Bobby and Sevrin started TNB. Back then, motion graphics was fighting its way into an entertainment industry still rooted in the era of print. Now we have Artificial Intelligence and Machine Learning systems performing various motion graphics functions in real-time with footage shot on a virtual production set and post-production with a partially distributed team. Robots aren't yet creatively conceptual, but ChatGPT seems a hair away from taking the controls and turning off the life support.
Compared to our early days, the challenges we face today are weighted as much towards the acquisition and retention of high-caliber humans to fill full-time crew and freelancer teams as it is chasing business KPIs and growth goals."
What is the key to the success of your business?
"We're smart enough to know we don't know everything.
Our brand grew up. The New Blank always delivered excellent work, but our brand was not defined or thirsty for business rigor. We were immature, similar to many small businesses. Over the past few years, we've defined and honed the TNB brand and invested in our customers and employees while making many back-office and tech improvements. We can handle market volatility today because of the investments made over the past half dozen years.
We've never sold our souls to the devil. The New Blank has never simply let the dollar decide on projects we do or don't take. We are a for-profit business and aspire to grow, but we also care about the work and what clients are associated with our brand. We have received incredibly tempting offers that financially would have solved many problems but were antithetical to our core beliefs. Walking away from the level of revenue those offers represented is always painful, especially when things are tight, but selling our souls to the devil is weapons-grade stupid.
We love what we do. I've been fortunate to have found joy in every job, from paperboy to dishwasher, jet engine mechanic, coach, to business leader. Not everyone can make that happen right now, so if you're not super passionate about your current gig, consider building a side hustle. At least then, you'll be able to soothe your soul while punching a clock.
Our shared passion unites our team for design, storytelling, and motion graphics. Each member brings their unique background and perspective to the table, from Bobby and Sevrin's experience as seasoned designers and creatives to Chuck's appreciation for the strategic value of design in digital products, marketing campaigns, and businesses.
Design is at the forefront of everything we do at The New Blank. We constantly question how design can enhance a story, engage customers, and help businesses reach their goals. The desire to create outstanding work for amazing clients drives our team, and the world around us is the inspiration we use to push the boundaries of design and storytelling."
What lessons learned can you share with people to make their business succeed?
"Do you mean mistakes? Lol. Well, we've made plenty. Here are a few:
Limit the amount of work you give away for free. We're guilty of using this tactic plenty in the early days but are far more selective today. The creative services and consulting industries are notoriously guilty of leveraging this tactic to help win work, clients, accounts, etc. At the same time, it can inadvertently diminish your brand, product, or service's value.
Team First. The importance of your team is a concept familiar to most veterans from endless drilling and training, and that importance is critical in business too. Establish a core team who are all-in on your business goals & initiatives. Trust, hard work, passion, and commitment are essential strands of the DNA necessary to build a winning team. Everyone should be 'all-in' on the company vision and goals with the tenacity to keep rowing in stormy seas.
Please take advantage of the veteran benefits you've earned. This lesson is one we've learned only recently. We've managed to stay in a continual bootstrapping loop, having just begun seeking the network and resources available and applicable to our company. Despite all of the owners being veterans, we shared a belief that "others were more deserving," which delayed getting the assistance we could have used earlier."
Aspire to be different. Be unique, be bold, and remain authentic. Uncover the aspects of your business and brand that make you unique, then amplify. Go nuts, and have fun!
Don't hire or work with jerks. We genuinely care about the humans that work at TNB and the clients we serve. We tend to get along and enjoy working with our clients. It makes life more enjoyable when creating fabulous work for clients with a crew that feels like family. Life is too short to work for or with assholes; check them at the door.
Take the time to celebrate wins. Occasionally, high-performing teams fall victim to self-inflicted wounds by allowing losses to cast too much shadow over the wins. Winning is hard with all the talented creative individuals and shops working today. It's easy to let the losses hurt more than permitting the successes to feel like wins. Put another way, take time to smell the roses."
What other information about you and your business would you like to share with the NaVOBA community?
"The New Blank (TNB) is a certified Veteran-Owned Small Business and is operated by three Navy Veterans, Bobby, Sevrin, and Chuck, who happened to meet up after their service. Last summer, we welcomed Alex, our first Army veteran, into our crew. There could be future Army vs. Navy pickleball games in our future!
Recently, TNB supported the veteran community by partnering with Disney on a Veterans and Military Families Month initiative called Reimagine Tomorrow. The initiative dovetails nicely into our goal to positively impact humanity."
Branch:
Navy
Service Years:
Bobby: Navy, 1988 – 1995
Chuck: Navy, 1987 – 1993
Sevrin: Navy, 1986 – 1991
Highest Rank Attained:
Bobby: ABHAN E3
Chuck: AD2 (AW)
Sevrin: SM3 E4
Why did you join the military?
Bobby: "I didn't have many options for college. My financial situation couldn't support higher education, and I didn't have the grades needed for scholarships. The Navy had a Sea College program designed specifically for my circumstances. And in the Navy, I knew I would see more of the world than if I enlisted in the other services. And, of course, working with aircraft on the high seas seemed like a grand adventure!"
Chuck: "Have you seen the original Top Gun? I'm kidding, but let's just say Motorcycles, jets, and sunshine significantly influenced my decision. I figured joining the Navy would be a way to straighten me out and see the world. Plus, I was facing the prospect of dropping out of college. I recognized the benefits that military service can provide, including career training, travel, and opportunities for advancement, as well as the potential for personal growth and self-discipline.
Ultimately, it was a well-considered decision that set me on a path towards success and has been one of the best decisions I've ever made."
Sevrin: "When I was a teenager, I was a troubled kid, and I found myself on my own at 15 spending my nights cruising the main drag of my home town looking for fights. As time went on, I came to the realization that I needed redirection and more than a bit of discipline. Enter Top Gun, becoming a fighter pilot took a four year degree and GED just wasn't enough.
I needed excitement and if I couldn't become an officer and fly jets, I could become an elite special forces member as an enlisted man. I trained and trained for the SEAL program, I even chose my rate because it supported that path."
Military Occupation:
Bobby: "I was an Aviation Boatswain Mate. Put simply, I ran around on the flight deck, waving my hands to direct aircraft for launch and recovery. I also served in Deck Division with the real sailors for a spell, where I learned the craft of the traditional Navy. Everything from knots and line handling to standing watches on the weather decks looking for submarines and foreign aircraft. I also had the distinction of being the fleet's only Nuclear Aircraft Carrier-Helm qualified, Airdale. I got to helm the ship through a hurricane!"
Chuck: "I was an Aviation Jet Engine Mechanic (AD). After boot and schooling, I spent four years on the USS Constellation (CV-64), extending my enlistment for another two years for Pt. Mugu, CA joining a small test cell team.
In the Navy, Test Cells were part of "I" level maintenance for repaired or serviced jet engines for the squadrons assigned to our carrier or duty station. The test cell allowed us to ensure all systems for safe flight operations met specifications before installing the engine back in the aircraft . Every day started with a ride to the beach on my ZX-7 where I would eat breakfast and work on jet engines. It was the life!"
Sevrin: "I was a signalman On the USS Barbey, The signalman, More commonly known as Skivvywavers, were the not-so-distant cousins of the Boatswain's mate. My responsibility was visual fleet communications utilizing lights, flags, and code to communicate silently between ships. We sat up on the highest point of the ship's decks in both the sun and the storms.
A shellback with four equatorial crossings, I had the luck to complete multiple West Pac tours as well as a full circumnavigation of this wonderful blue marble."
Significant Achievements/Experiences:
Bobby: "Other than my helm qualification and letter of commendation, I also learned how and qualified to fight every fire class."
Chuck: "During my time on the Constellation (CV-64) "Connie," I completed certification for Air Warfare (AW), completed my EMT "A" certification, and was awarded Sailor of the Month two times, leading to my selection as Sailor of the Year.
Another memorable experience was being among thousands who fought a gnarly fire aboard the Connie just after we pulled out of Coronado for a two-week carrier qualification. We learned later that a 6" fuel valve wasn't checked out properly in Damage Control, leaving a gaping hole in the fuel pipe. When the flight deck requested fuel to begin filling squadrons for flight ops, a major fuel-oil leak ensued, gushing thousands of gallons of JP-5, which flooded multiple levels of our boiler room. Eventually, it ignited. Fighting fires while in General Quarters made for the longest 24 hours of my life. It got pretty sketchy at times, too; I thought I was a goner more than once.
I also represented the Navy via the All-Navy sports program as a goalkeeper for the All-Navy Soccer team. We made it to the All-Armed Forces World Championship hosted in Italy. Unfortunately, we got smoked. The experiences and relationships still fill my memory today; I am proud to have represented the USA and US Navy."
Sevrin: "I served in the first gulf war under Operation Desert Shield, An internal shipboard fire, was a member of the ships self defense force, and was the leading Petty Officer of my division for the last two deployments in the Persian Gulf."
Biography/Fun Facts
In 10 years, you see yourself…
"Ten years feels like a lifetime at the rate of innovation of change we're experiencing. We hope to see the families of the people employed here grow, be healthy, and be happy. Professionally, we have goals to do more significant creative work as fuel for business growth. But, who knows, maybe we'll be sitting on a beach somewhere sippin' a whiskey?"
What artists are on your favorite playlist?
"Funny you should ask!
We just finished our "In Your Ears" (https://thenewblank.com/who-we-are/social/) TNB Playlist for our 2022 holiday client card, so answering this question is excellent timing! Music plays a vital role in our creative process. We have been compiling some of our favorite tracks into yearly anthology playlists for the last several years. Because of our crew's variety of musical preferences, we expose ourselves to a wide range of fantastic artists.
Our playlists are significant as part of our culture, and we share them with our clients and the public. The team also enjoys the opportunity the playlists present to design album art. Frequently that initial creative will feed into our other promotional items, whether stickers or t-shirts, or even the skateboard decks we send out as premiums for our clients.
Our playlists are available on Spotify and Apple Music; we invite you to jam along with us and see what is making us move!"
What is your favorite sports team?
"We support all the local teams at various levels. Sevrin and Chuck follow the Seahawks and Sounders while Bobby goes to the local soccer matches wherever he travels."